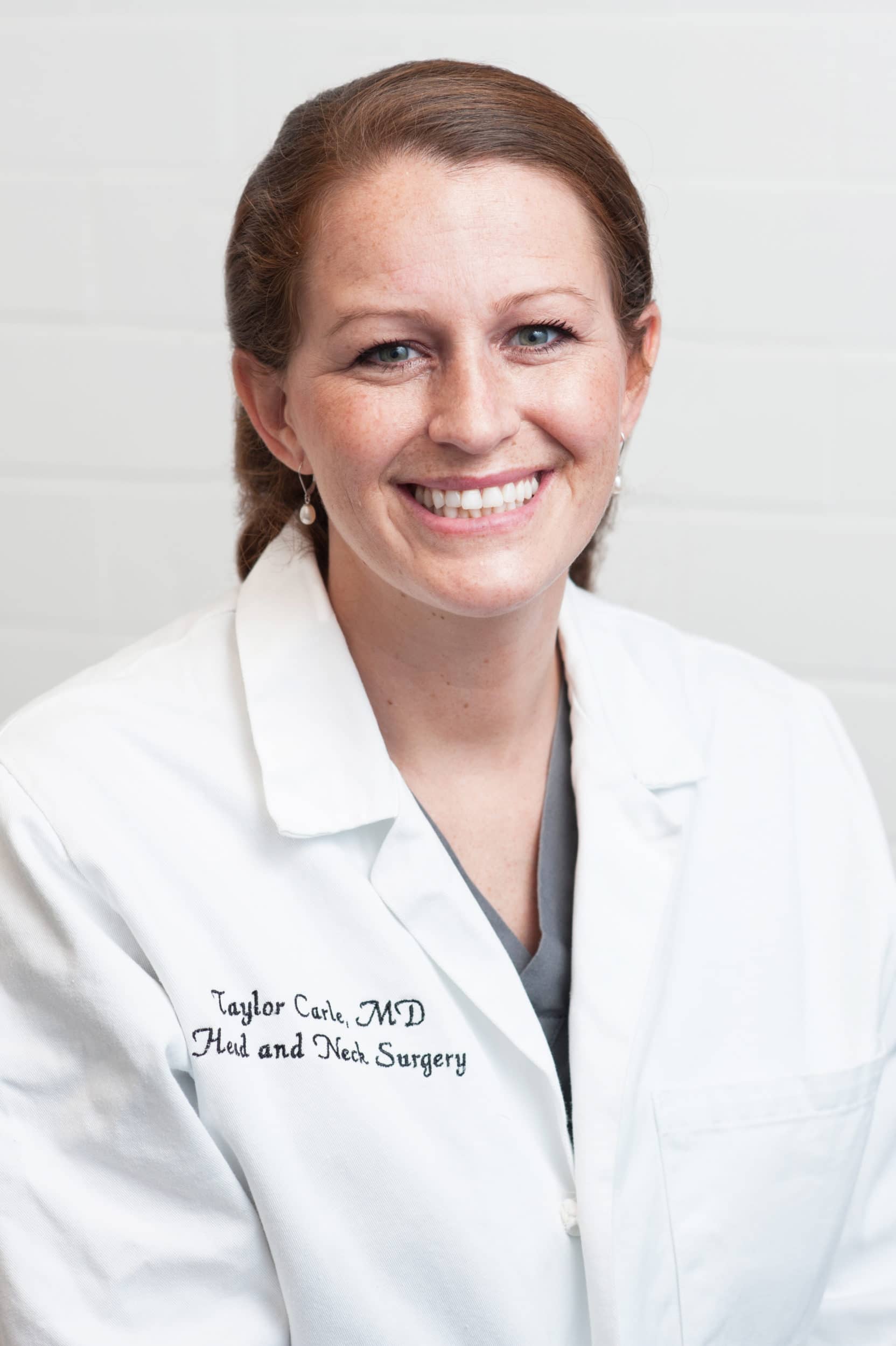 Dr. Taylor R. Carle is an Otolaryngology-Head & Neck surgeon with fellowship training in Rhinology and Skull Base Surgery.  Dr. Carle works passionately with patients to meet their unique needs and maximize their daily quality of life.
Dr. Carle's practice includes comprehensive medical and surgical care of the ear, nose, and throat. She has also received advanced subspeciality training in the medical management of complex paranasal sinus inflammatory disorders, revision sinus surgery, orbital surgery, cerebrospinal fluid leak repair, and minimally invasive approaches to the skull base for resection of benign and malignant tumors. She is also trained in performing cutting edge minimally invasive procedures including Latera®, ClariFix®, balloon sinus dilation, and Sinuva®.
Dr. Carle graduated with an undergraduate degree in Cellular and Molecular Biology from Sonoma State University receiving magna cum laude distinction. She completed her medical school training at the University of Southern California. Dr. Carle then underwent five years of specialized surgical training in Otolaryngology-Head and Neck Surgery at the top-ranked University of Michigan. She then returned home to California to complete a fellowship in Rhinology and Skull Base Surgery at UCLA.
Dr. Carle has authored and presented multiple peer-reviewed papers at national meetings in Otolaryngology. Her research interests include the management of sinonasal malignancies, invasive fungal sinusitis, outcome measures in pediatric skull base surgery, and molecular biomarker heterogeneity in chronic rhinosinusitis. She has authored multiple book chapters including those on the Etiology and Epidemiology of Sinonasal Malignancies as well as Stent Complications within Procedural Complications in Nasal and Sinus Surgery. She has a passion for international medical philanthropy and serves as Co-Founder and Chief Medical Officer of her family run 501c3 Non-profit organization "Agape Global Health Missions."
Dr. Carle joined Huntington Ear Nose Throat-Head & Neck Specialists in Pasadena, CA in 2020. She has hospital appointments at Huntington Hospital, Huntington Ambulatory Surgery Center, Methodist Hospital, and Arcadia Outpatient Surgery Center.