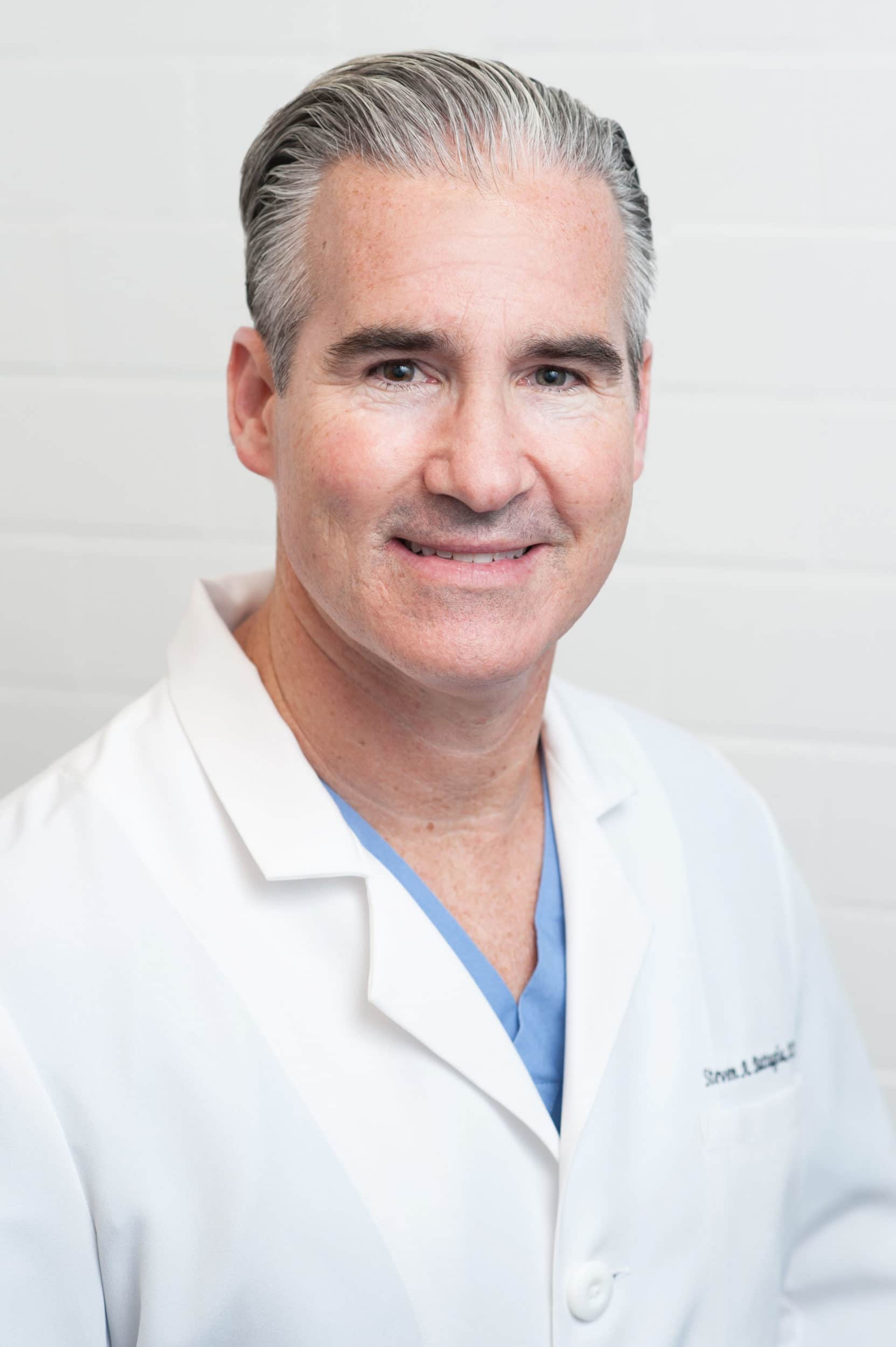 Steven Battaglia MD grew up in La Cañada, CA. He graduated from Flintridge Preparatory School in 1988, and received a Bachelor of Science from Stanford University in 1992. He then spent a year performing research at the National Institutes of Health in Bethesda, Maryland before attending medical school at the University of Vermont. Dr. Battaglia was elected to the AOA Honor Medical Society after his third year and graduated at the top of his class in 1997.
He moved to Chicago, Illinois for his internship and residency in Otolaryngology-Head and Neck Surgery at Northwestern University, which he completed in 2002.
Dr. Battaglia's training at Northwestern included five years of intense clinical instruction, surgery and research, and prepared him to practice the full range of Otolaryngology and surgery of the head and neck. He became board certified by the American Board of Otolaryngology (ABOTO) in 2003, and re certified in 2012.
Dr. Battaglia joined his father Charles R. Battaglia, MD in private practice in Pasadena in 2002. Since then, he has been a member in good standing of the medical staff at Methodist Hospital and Huntington Hospital, where he has served as Chief of Otolaryngology, Chair of the Department of Surgery, and Chair of the Credentials Committee.
Huntington Ear, Nose, Throat Head & Neck Specialists grew from Dr. Battaglia's commitment to providing the highest quality care for the community, and from a strong affiliation with Huntington Hospital and the Huntington enterprise. Dr. Battaglia has been recognized by his peers as a Top Doctor in both Pasadena and Los Angeles Magazine for many years for his dedication and professionalism.
While he enjoys all aspects of the field, he has particular interests in thyroid and parathyroid surgery, ear surgery, head and neck cancer surgery, and sinus and nasal disorders.
When not working, he enjoys gardening and spending time outdoors with his wife and four children.
University of Vermont College of Medicine Burlington, VT
Doctor of Medicine
Stanford University
Palo Alto, CA
Bachelor of Science
Northwestern University Medical School
Chicago, IL
Department of Otolaryngology-Head and Neck Surgery
Northwestern University Medical School
Chicago, IL
Department of Surgery
Licensure & Certification
Board Certified
Diplomate, American Board of Otolaryngology, 2003
Recertified 2012
State of California Medical License
Specialty – Otolaryngology
Dr. Battaglia's area of expertise encompasses a broad variety of otolaryngology services including endoscopic sinus surgery, pediatrics, head and neck oncology, Endocrine surgery, and Otology.
Outpatient Surgery Center Affiliations
Huntington Ambulatory Surgery Center
Arcadia Outpatient Surgery Center
Huntington Hospital, Pasadena
Methodist Hospital, Arcadia
Professional Affiliations
American Academy of Otolaryngology-Head and Neck Surgery
American Medical Association
Los Angeles County Medical Association
Los Angeles Society of Otolaryngology